The vantage location of Lodomar Hotel, between Murcia and Alicante, offers easy access to a dozen of professional golf courses of international renown, just 20 minutes away from the hotel.
Our guests will be able to have special rates in most of those courses.
Possibility of lodging and golf packages. Order your budget: golf@lodomar.com Golf courses with agreement


---
LO ROMERO
Pilar de la Horadada – Alicante 9,6 Km www.loromerogolf.com
In Pilar de la Horadada, Alicante and easily accessible, Lo Romero Golf is a very special 18-hole course. Its varied and meticulous design adjusted to the gentle relief and Mediterranean vegetation makes it a nice round to play on this course and the ideal place to practice this sport.
---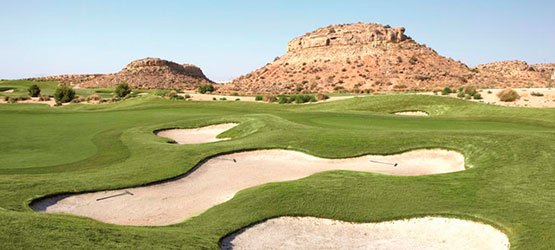 EL VALLE GOLF - GNK golf 
Baños y Mendigo – MURCIA 32,5 Km www.gnkgolf.com/campos/elvalle
El Valle Golf, a medium-length, par-71 golf course, is situated in a beautiful natural desert valley. The golf course is routed in a "core" format that groups several holes together while keeping the surrounding development on the perimeter. This design feature presents players with numerous interesting short-game options around the greens. El Valle Golf features clusters of smaller, more subtly shaped bunkers. Moreover, El Valle Golf has numerous holes playing adjacent to naturally existing rock-outcroppings and ridges.
To further enhance the desert theme, the golf course is landscaped with many species of native shrubs, grasses and other desert plants. Complemented with a number of water features, including two lakes and two elaborate stream and waterfall systems.
---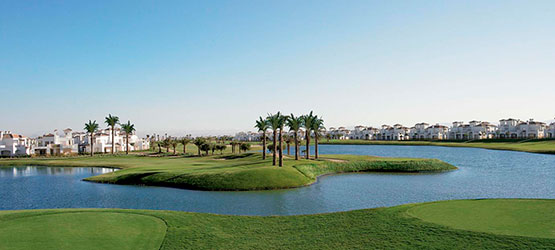 LA TORRE GOLF - GNK golf 
Roldan – MURCIA 15,6 Km www.gnkgolf.com/campos/latorre
La Torre Golf is set within a landscape of elaborately sculpted bunkers which help to separate the holes. Three large lakes come into play on six holes, and the golf course is complemented with lush landscaping.
The shorter length of La Torre Golf makes the golf course more playable for the average to higher-handicap players. La Torre Golf incorporates a great deal of strategy, and exciting shots, so when played from the back tees, the course will still be interesting to better players who will enjoy the wide variety of shots required to successfully play the course.
---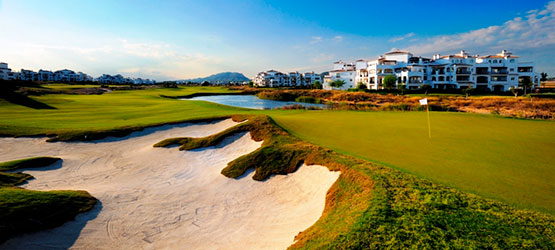 HACIENDA RIQUELME GOLF - GNK golf 
Sucina – MURCIA 26,1 Km www.www.gnkgolf.com/campos/haciendariquelme
The golf course Hacienda Riquelme is spread among olive trees, wildflower meadows and large lakes. It offers ampler fairways, giving the enough space to play at the same time as a number of strategies are created. The greens, audaciously designed, will be without a doubt the most commented part of the course: It is especially important that the player plays from the right part of the green so that it makes easier the shots. The bunkers are unique and create a spectacular image which makes a difference from the rest of golf courses.
---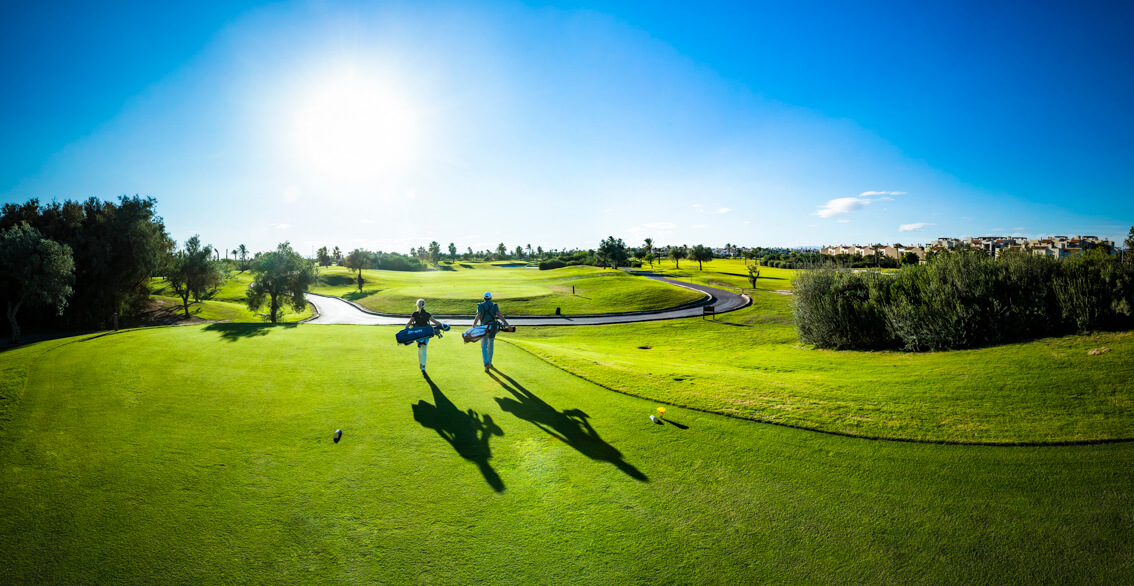 RODA GOLF
San Javier – MURCIA 16 km www.rodagolf.com
Roda Golf Course was designed by the internationally renowned golf architect Dave Thomas and offers the very highest standards of quality. Any player, whatever their level, will enjoy playing this course.
---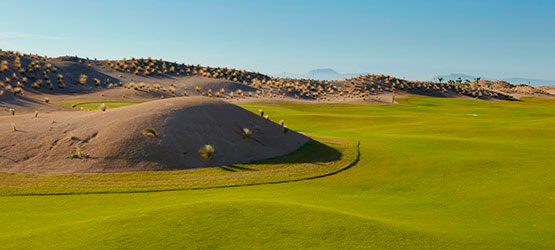 SAURINES DE LA TORRE - UGOLF
Roldan, Torre Pacheco – MURCIA 25,4 Km https://ugolfiberia.com/saurines-de-la-torre/
Saurines de la Torre Golf is an 18 holes par 72 desert style golf course with influences of the Nicklaus golf course in Lake, Las Vegas. Its main characteristics are undulating fairways and greens among desert dunes, few bunkers and a great 6 hectare lake. Holes 9 and 18 go around the lake, which guarantees an exciting final.
---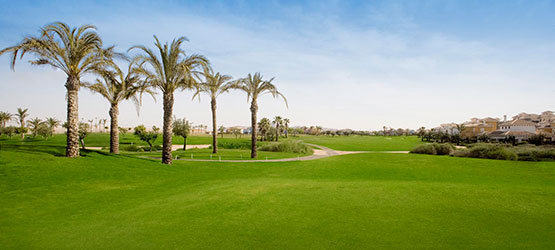 MAR MENOR GOLF - UGOLF
Torre Pacheco – MURCIA 23,8 Km  https://ugolfiberia.com/mar-menor/
David Thomas designed the first nine holes of Mar Menor Village Golf. It demands good strokes to put the ball on its courses with hardly any rough; its greens are well protected by bunkers and by the water of the lakes around the course. The second nine holes that were designed by Nicklaus Design have wide courses and wide roughs that allow big strokes. The spectacular lake around holes 13, 14 and 15 deserves special mention, making the water the greatest obstacle to be overcome.
---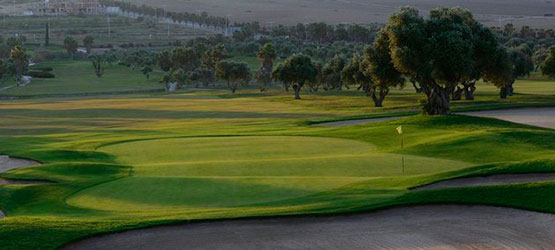 LA FINCA GOLF
La Algorfa – ALICANTE 35 km www.lafincagolfresort.com/golf-quara/golf-la-finca
La Finca golf course offers 18 holes + 1, each one designed by the prestigious Spanish designer Pepe Gancedo. It is a course with generous fairways and spectacular greens because of its design and variety of contours.
---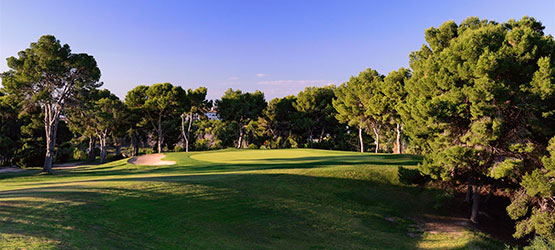 VILLAMARTIN GOLF
Orihuela Costa – Alicante 17,5 km https://www.lafincaresort.com/golf/villamartin-golf
Its extraordinary design and unmatched setting undoubtedly make this course one of the best golf courses in Spain. Its well-rooted and mature vegetation provides a beautiful backdrop.
Villamartin Golf provides a circuit for players of all skill levels to enjoy since it requires the use of every club in the bag. The greens at Villamartin are wonderfully designed and have attracted very important Tournaments.
---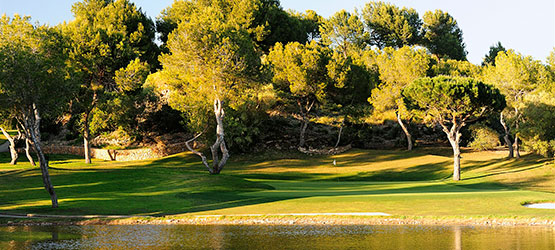 LAS RAMBLAS
Orihuela – Alicante 15,6 km https://lasramblasgolf.com/
Las Ramblas is a golf course of incomparable beauty and as its name suggests, has been developed on a steep terrain surrounded by watercourses. The lush vegetation surrounding the course is formed primarily of leafy Mediterranean pines, make the journey proceeds in an unforgettable setting.
---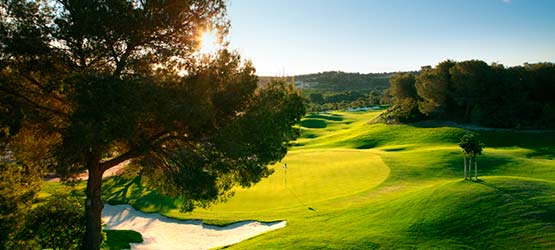 LAS COLINAS GOLF & Country Club
Orihuela Costa – ALICANTE Distance from Lodomar: 15,7 Km www.lascolinasgolf.es
Designed by the renowned North American landscape architect: Cabell B. Robinson. The golf course extends across the valley between the hills, adapts to the unusual lie of the land and blends naturally into the landscape. The width of its fairways, the design of its extensive undulating greens, and the numerous tees at each hole give it great versatility and mean that it is suitable for professional competitions, while also offering any player a pleasant, enjoyable and affordable game.
---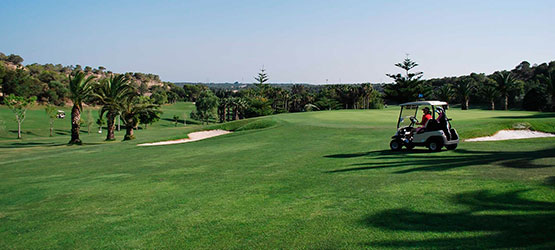 REAL CLUB DE CAMPOAMOR
Orihuela Costa – ALICANTE 15,2 Km www.lomasdecampoamor.es
Set between two valleys communicated with each other and surrounded by small hills that protect it from wind, enjoys a special microclimate that makes it possible to practice golf at any time of year.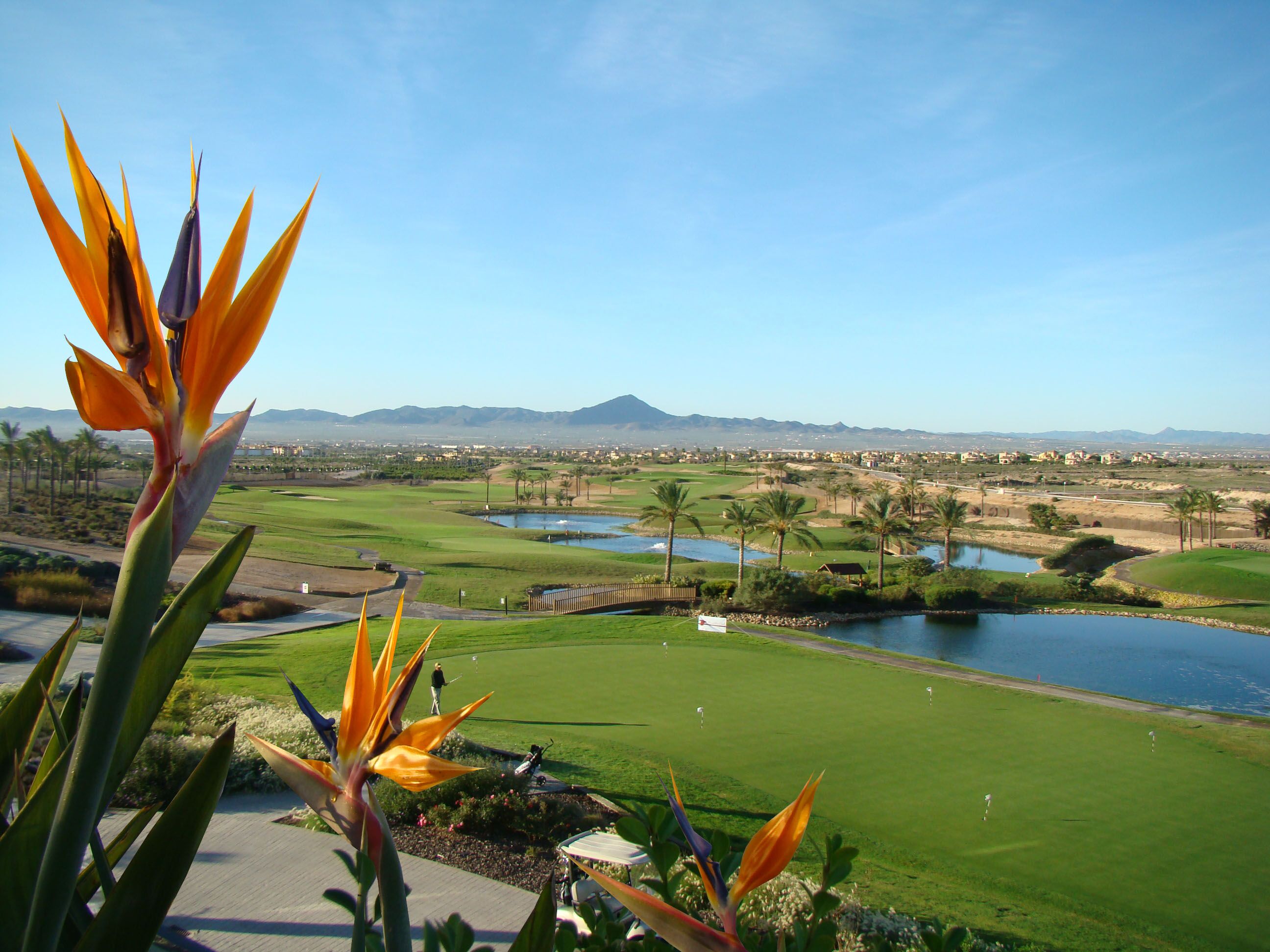 CONDADO DEL ÁLAMO
Avda. Hacienda del Álamo, 11 Fuente-Álamo. https://ugolfiberia.com/hacienda-del-alamo/
Design to DAVE THOMAS – PAR – 72 to 6724 meters Considered one of the best courses in Murcia, Hacienda del Álamo has an 18-hole main course perfectly integrated into the natural terrain, wide greens and strategically placed obstacles so that playing golf is a fun challenge for you. Highlight the existence of 6 short holes perfectly designed for all types of handicaps, a bunker area, chip area, a large putting green and a practice area with the possibility of hitting on mats and natural grass.